Finding 'Ohana 2021 Movie Cast, Trailer, Plot, and Summary
DIRECTOR:
Jude Weng
Release Date:
January 29, 2021
CAST:
Lindsay Watson, Kea Peahu, Owen Vaccaro, Alex Aiono, Kelly Hu, Ke Huy Quan, Branscombe Richmond, Chris Parnell, Brad Kalilimoku, Marc Evan Jackson, Brahim Chab, Ricky Garcia, Ryan Higa, William Acton, Mapuana Makia, Winai Wiangyangkung, Kyndra Sanchez, Stephen Renney, Stephon Fung, Hicham Philippe Hachem
REVIEW:
"Finding 'Ohana' starts with an exciting start as Pili (like newcomer Kea Peahu) runs a bicycle across Brooklyn. She's geocaching, an outdoor escape room resembling a GPS-guided treasure hunt. "Sorry, people, it's a competition," she apologizes if she knocks in the small laundry people and items aside without attempting to conceal the success of her voice. We have a perspective that takes us inside her handlebars, giving us a vivid and energetic racing feeling.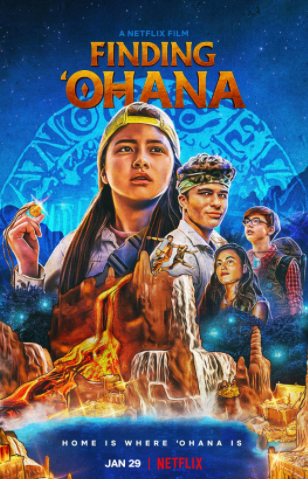 Not just Pili's riding is quick. She outsmarts the other competitors with persistence, excellent problem resolution, and the ability to speak in Spanish with her partner so nobody else can hear her answer. And this award is a visit to the geocaching camp, so she may practice even more on her talents. "This will be EVER's greatest summer!"
But after all, she can't go camping. In the following scene, Pili is so far away from Brooklyn's street that it might be the other side of the globe. It's really the opposite side of the world, rural O'ahu. Pili, always concerned, has brought back to her childhood home Pilli and her cranky little brother Ioane (Alex Aiono) with her double smoking-cessation patches-on-the-arm mother Leilani (Kelly Hu). The grandpa of the children (Branscombe Richmond) had a heart attack and requires assistance.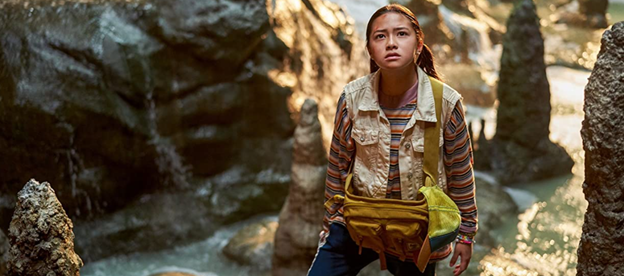 Mostly it's great fun, with a beautiful mixture of adventure, humor, warm-hearted moments, and even a little (teen) romance, to Joseph Trapanese's terrific music. On the soundtrack, there are also some lively and well-selected pop songs that prevent things from becoming stressful, like "Pump it" by the Black Eyed Peas (based on "Misirlou" themes by Dick Dale). The landscape is beautiful, and the stunts are carefully organized. The youthful cast is excellent, featuring Lindsay Watson, a lovely Islander firmly linked with the indigenous customs but glad to sing along with Meghan Trainor, and Owen Vaccaro, a delightfully strange child along the way ("The House with a clock in its walls"), as Casper. His remark about "Lost" while traveling around his shooting sites is a hoot.
A sequence of flashbacks recreates the pirate's tale with the help of the scenes by Chris Parnell, Marc Evan Jackson, and Ricky Garcia. Pili, E, Hanna, and Casper use the instructions in the note back precisely to depict cave children thinking of pirate treasure with delighted and frightening obstacles, such as skeletons, spiders (some harmless, others unsafe) riddles, and contraptions. Different difficulties offer each search party member an opportunity to lead, and each person receives assistance and help from others. But the ultimate task of the film is one that they all have to face together since they determine not what can be done but what is right. A twist that pulls together native beliefs and contemporary problems is unexpected and surprising. We leave the movie as if we discovered some 'Ohana ourselves.