Last Night in Soho Movie Release Date, Trailer, Plot and Review
DIRECTOR:
Edgar Wright
RELEASE DATE:
OCTOBER 29, 2021
PLOT:
'Last Night in Soho" Eloise "Ellie" Turner (Thomasin McKenzie) has grand aspirations of becoming a fashion designer. Ellie's mother had the same ambition to work as a designer, and it bothers her. It was only after her mother's relocation to London that her mother took her own life. Ellie can now recognize herself in any reflection.
Ellie, who loves the fashions and music of the 1960s, makes the same decision as her mother and moves to London to attend design school. Rita Tushingham, her adoring grandma, is worried about her since she can see and feel feelings that others cannot. When Ellie's college friends ridicule her for wearing her own clothing and for being from a bit of town in Cornwall, she resolves to go out on her own. In her final film role, a stern yet loving Ms. Collins lends her an antique apartment (Diana Rigg).
Once she starts dreaming of becoming Sandy (Anya Taylor-Joy), a swinging blond lady who lived in 1966 London, it's an excellent set-up for Ellie. Reality and imagination begin to mix, causing Ellie's dreams to turn into horrors. In "Last Night in Soho," written with Krysty Wilson-Cairns ("1917"), Wright is hilarious and chaotic, sleek and elegant, but the second half is a mess.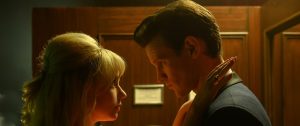 REVIEW:
Toe-tapping tunes like "Downtown," "Got My Mind Set on You," and Peter and Gordon's "A World Without Love" provide the soundtrack to Ellie's London escapades in the opening part of Wright's "Last Night in Soho." Despite her lack of experience, the young lady is fascinated by what she has read about the great city, and she's eager to see the London she's heard about in her favorite music. There are similarities between McKenzie's portrayal of Ellie and Tom's in "Leave No Trace." She's a stranger in a foreign country, attempting to repair her broken relationship with a parent with the help of a new friend. Eventually, she buys clothing from the 1960s and dyes her hair blonde.
Even the basic plotline of "Last Night in Soho" is familiar. Lascivious factors must be avoided by this rural girl now residing in the metropolis. For example, during a harrowing taxi trip, the driver starts to remark on her legs and asks whether she has any other models living in the house. However, Wright intends for this picture to be a criticism of filthy, poisonous males as well.
Shaun of the Dead was Wright's breakthrough film, so it's no surprise he'd return to the zombie genre here. Ellie is attacked by a swarm of ghostly apparitions amid bright, surreal kaleidoscopic reflections. Due to their indistinguishability and the frequency with which Wright employs them, these ghosts do not frighten the audience. I think it would be interesting if Ellie and Sandy were more linked than just sharing a house in separate decades.
In addition, "Last Night in Soho" suffers from colorblind casting, which is a frequent blunder. An unintentionally terrifying moment occurs when the film's only Black character (Michael Ajao) dresses up for Halloween only to be accused of near-rape by an older lady. However, producers must realize that just hiring a Black actor isn't enough for a moment like this, which has a long racial history. He then decides to assist the white guy who almost killed him, a choice that's more absurd than a ghoul.
Just focusing on the film's early themes, such as zealotry for the past and poisonous men, isn't enough to sustain it. As far as the sex business or mental health is concerned, Wright has nothing more to offer beyond superficial knowledge. It's all corny comedy, plenty of blood and gore, and references to much better flicks. Although it has been done before, this time, the tone doesn't quite match up with the film's serious subject matter. As a matter of fact, the unexpected finale will not shock many.
It's a shame that Ellie's narrative ends up seeming unfinished since it's buried by the film's aesthetic to the point where it can no longer be carried by it. However, Wright's "Last Night in Soho" has great music and stylish vintage fashion by costume designer Odile Dicks-Mireaux, but it collapses into a depressing pile of tedium.