The Nun 2:Anticipated Return of the Terrifying Conjuring Spin-Off"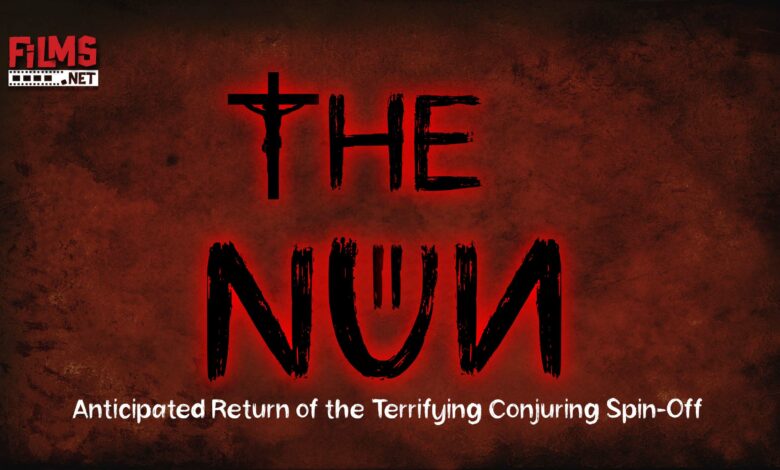 The Nun 2
The Conjuring Universe has kept horror fans on their seats since its inception. From demonic dolls to possessed nuns. Each movie in this franchise has managed to up the ante when it comes to scarce and thrills. And now, fans eagerly await 'The Nun 2', the next chapter in this terrifying universe. With rumors and speculations abounding, here's everything we know about 'The Nun 2': release date, cast, plot details, and more!

The Conjuring Universe
The Conjuring Universe is a cinematic universe. That revolves around the paranormal investigations of Ed and Lorraine Warren. The two real-life paranormal investigators became famous for their work in the 1970s. The franchise started with 'The Conjuring' in 2013, based on one of Warren's most infamous cases.
Since then, the franchise has expanded to include several spin-off movies like 'Annabelle,' 'The Nun,' and 'The Curse of La Llorona.' Each movie introduces new characters and stories. While still maintaining a cohesive universe.
What sets The Conjuring Universe apart from other horror franchises is its attention to detail when building suspense and creating scares. The movies use effective techniques such as jump scares, atmospheric tension-building, and practical effects to keep audiences on edge.
The Conjuring Universe is a must-watch for any horror fan looking for a good scare. With each new installment bringing something fresh yet terrifyingly familiar. It's no wonder this franchise has become so popular among fans!
The Nun 2: Details
The Conjuring Universe has been making horror fans scream for years. One of its most notorious characters is back for a new chapter. 'The Nun 2' promises to be as terrifying as its predecessor. With more scares and plot twists to keep audiences on the edge of their seats.
First, when can we expect to see 'The Nun 2' in theaters? The release date sets for July 16, 2021. This means horror enthusiasts have only a few months left before they experience the next installment.
As for the cast, we know that:
Taissa Farmiga (the younger sister of Vera Farmiga from 'The Conjuring')

will return as Sister Irene alongside Demian Bichir

who plays Father Burke.

We can also expect new faces in the movie. That includes Ingrid Bisu ('The Conjuring: The Devil Made Me Do It') and Bonnie Aarons returning as Valak/The Nun herself.
When it comes to plot details, there isn't much revealed yet. However, director Corin Hardy has hinted that the story will take place several years after the first film's events. This means we might see more insight into Valak's origins or explore other horrifying entities within The Conjuring Universe.
Overall, 'The Nun 2' seems to be another spine-tingling addition to The Conjuring Universe franchise. Fans eagerly anticipate what twists and turns await them in this chapter!
Everything We Know About the Next Chapter
The Conjuring Universe has been a massive success since its inception in 2013. The franchise comprises seven films. That includes the main series and spin-offs like Annabelle, The Nun, and The Curse of La Llorona. With each new release, fans eagerly anticipate what's next for this terrifying universe.

So, what do we know about the future of The Conjuring Universe? Well, this mysterious world seems to have no end in sight. Several projects currently in development or production will continue to expand upon this already vast cinematic universe.

First up is The Conjuring: The Devil Made Me Do It (2021). Which follows Ed and Lorraine Warren. However, as they investigate a murder trial where demonic possession is being used as a defense. This film promises to be even scarier. Moreover, its predecessors and marks the first time one of these movies focuses on an actual court case.

Another upcoming project is the third Annabelle movie, Annabelle Comes Home (2019). This time, paranormal investigators Ed and Lorraine Warren bring the possessed doll home but soon realize their mistake when evil spirits escape from their artifact room.

We have The Nun 2 (TBD), which will follow up on the events of its successful predecessor by exploring more about Valak's origins. However, not much else is known about this sequel, except that director Corin Hardy would not return due to scheduling conflicts.

There's no doubt that fans can expect plenty of chills and scares from upcoming installments within The Conjuring Universe!
'The Nun 2' release date
Fans of The Conjuring Universe have eagerly awaited the next installment in the series, 'The Nun 2'. And now we finally know when we can expect it to hit theaters. 
Originally scheduled to be released in July 2020, the COVID-19 pandemic forced a delay in production and pushed back the release date. But fans can rest assured that their patience will be rewarded with another terrifying adventure into this universe.
With the first film grossing over $365 million worldwide, expectations are high for 'The Nun 2'. Will it live up to its predecessor? Only time will tell.
However, with director Corin Hardy returning alongside screenwriter James Wan and producer Peter Safran, there's reason to believe that 'The Nun 2' will deliver on all fronts: suspenseful storytelling and spine-chilling scares.
Cast
The cast of "The Nun 2" has been a topic of speculation since the announcement of the movie's development. Fans are eager to know which actors and actresses will join the next chapter in The Conjuring Universe.
Rumors suggest that Taissa Farmiga may join the cast, possibly playing a younger version of Lorraine Warren or another character connected to The Conjuring Universe. 
Other potential additions to the cast include familiar faces from previous movies in The Conjuring Universe, such as Patrick Wilson or Vera Farmiga. However, nothing has been confirmed yet.
Fans can only wait patiently for further casting announcements while speculating who else might join "The Nun 2."
Plot details
The plot details of 'The Nun 2' are still shrouded in mystery, but we know that the story will continue to follow the character of Sister Irene. The first film introduced us to a young novice the Vatican sent to investigate a mysterious suicide at an abbey in Romania. She uncovered a demonic presence alongside Father Burke and was forced to confront her faith.

It's unclear where exactly 'The Nun 2' will take us, but we'll likely see more of Sister Irene's journey as she battles evil forces within the Catholic Church. Given the first film's success, it wouldn't be surprising if this sequel delved even deeper into the mythology surrounding Valak.

One thing is sure – fans can expect plenty of scares and suspense from this next chapter in The Conjuring Universe. 

While there isn't much information available about 'The Nun 2', there's no doubt that anticipation is high among horror fans everywhere. We'll have to wait until its release date on July 1, 2022, to discover what terrifying secrets lie ahead for Sister Irene and company!
What We Know About The Nun 2
Nun 2 is one of the most anticipated horror movies in recent years. The first installment was a box-office success; fans can't wait to see what the next chapter has in store.
One thing we know so far about The Nun 2 is that it will pick up where the first movie left off. We saw Sister Irene and Father Burke fight against Valak's evil intentions, but they couldn't stop her completely.
We can expect to see more of Valak's backstory and motivations in this sequel. Director Corin Hardy has teased that some surprising twists will keep audiences on the edge of their seats.
Another essential detail revealed by Hardy is that filming for The Nun 2 took place in Romania. This location was chosen for its gothic architecture and eerie atmosphere, which perfectly fits with the tone of the Conjuring Universe.
As for new characters, we know that Taissa Farmiga (sister of Vera Farmiga, who plays Lorraine Warren) will return as Sister Irene. It's also been announced that Bonnie Aarons will reprise her role as Valak, bringing back one of the most terrifying villains in horror movies.
While details are still sparse, it's clear from what we know about The Nun 2 that fans should prepare themselves for another thrilling ride through darkness and terror.
The Crux
Fans of The Conjuring Universe can look forward to the release of 'The Nun 2′ in July 2022. With a talented cast and intriguing plot details, this next chapter promises to be just as terrifying as its predecessor. As we await the film's release, we can only imagine what new horrors await us in the dark corners of the convent. Stay tuned for updates on.'