Embracing the Thieves' Lifestyle in Dungeons & Dragons' Honor Among Thieves"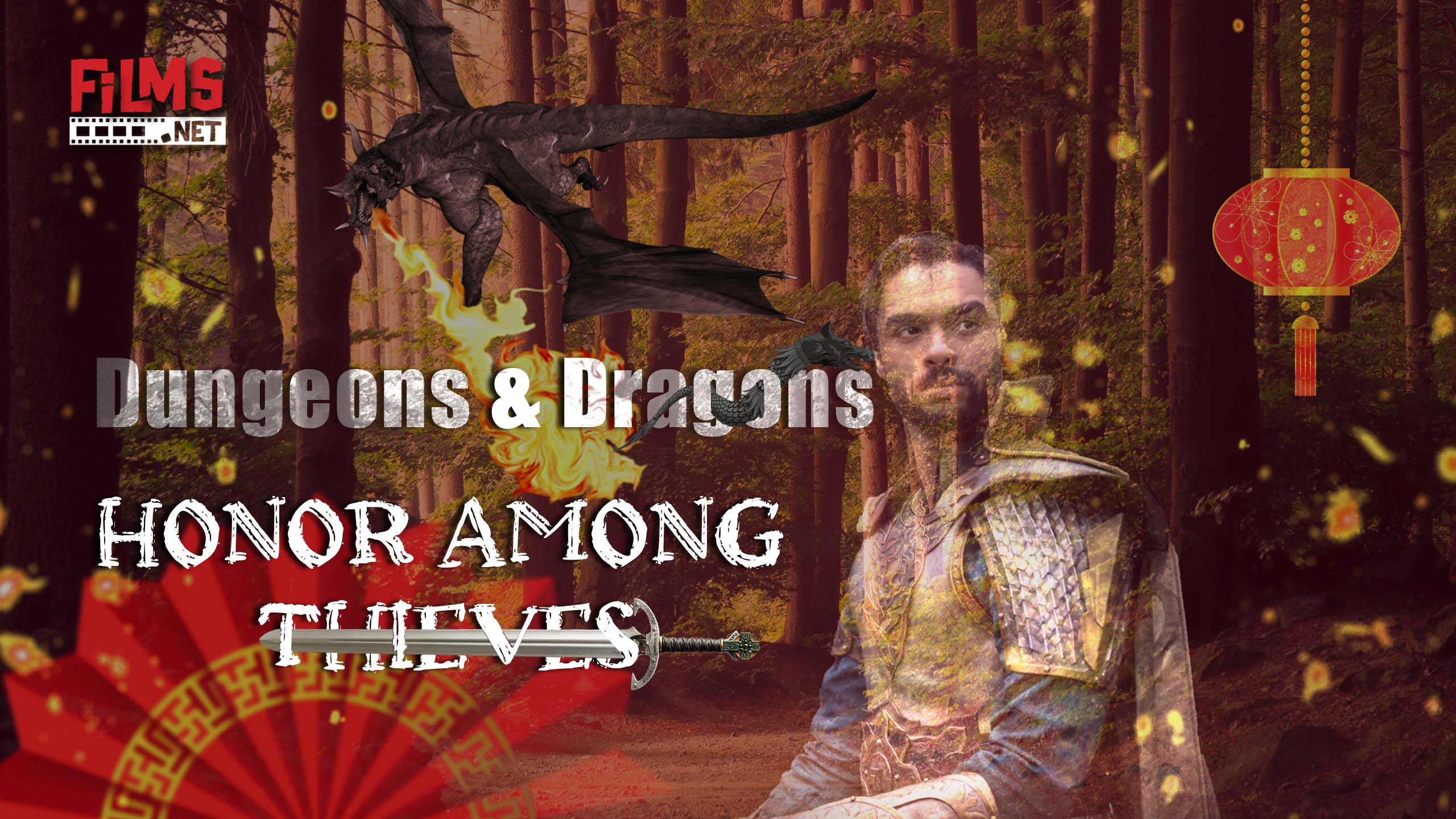 Dungeons & Dragons' Honor Among Thieves
Are you a fan of Dungeons & Dragons or epic fantasy adventures? If so, you'll want to keep an eye out for the upcoming movie, Dungeons & Dragons: Honor Among Thieves. Based on the beloved tabletop game, this film promises to transport viewers to a magical world filled with danger, intrigue, and humor. In this blog post, we'll look at what we know about the movie, including the plot, characters, and trailers. Get ready to dive into a world of high-stakes heists, terrifying monsters, and unforgettable characters in Dungeons & Dragons: Honor Among Thieves.
Dungeons & Dragons have always been a beloved tabletop game. But now, with the release of the movie "Honor Among Thieves," it's easy to see why. The film tells the story of thieves who band together to pull off a heist while navigating their world's treacherous politics. But what makes "Honor Among Thieves" so interesting is how it embraces the thieves' lifestyle, showing that the greatest heroes can sometimes come from the most unexpected places. Keep on reading the article to get deep insights into the movie. 
What does the movie portray?
In "Honor Among Thieves," being a thief is not just a profession but a way of life. The characters in the movie all come from different backgrounds, but they share a common bond in their love of thievery. They are not just petty criminals looking for a quick score; they are skilled professionals who take pride in their work and always look for the next big challenge.
One of the movie's most exciting aspects is how it portrays the thieves as honorable. They have their code of ethics, which they adhere to even when it puts them at risk. For example, when one of the characters gets betray by a former ally, she chooses to spare their life rather than seek revenge. This act of mercy shows that even though the thieves are criminals, they still have a sense of compassion and respect for others.
The Main Themes of the Movie
Another critical theme in the movie is the idea of trust. As thieves, the characters know that trust is essential to their success. They must rely on each other to get the job done; betrayal could mean the difference between success and failure. This creates a sense of camaraderie among the characters, even as they are constantly at odds.
One of the most impressive aspects of "Honor Among Thieves" is how it portrays the thieving lifestyle as a legitimate career choice. The characters are not ashamed of what they do; they take great pride in their work. This is a refreshing change from the typical portrayal of thieves in media, where they are often depicted as immoral and untrustworthy.
Strategy regarding thievery
The Movie also highlights the importance of skill and strategy regarding thievery. The characters are not just relying on brute force to get what they want; they use their intelligence and cunning to outsmart their enemies. This makes the movie more engaging, as the characters use their wits to overcome seemingly insurmountable obstacles.

But perhaps the most exciting aspect of "Honor Among Thieves" is how it explores morality. The characters are thieves, but they are not necessarily evil. They are simply doing what they need to survive in a harsh world. This raises the question of whether their actions are truly wrong or merely doing what they must get by.

This moral ambiguity is what makes the movie so compelling. It forces us to question our own beliefs about right and wrong and to consider whether there are times when breaking the law can be justified. This is a difficult question, and "Honor Among Thieves" does not offer a clear-cut solution. Instead, it encourages us to think critically about the choices we make and the values we hold dear.
The Release Date of the Movie
Dungeons & Dragons, the classic role-playing game,  sets to come back on the big screen with the release of its latest Movie, Dungeons & Dragons: Honor Among Thieves. The film will feature a new story, marking the first D&D movie release since Dungeons & Dragons 3: The Book of Vile Darkness, released directly to DVD after years of legal disputes.

Filming for the Movie began in Iceland in 2021 and later moved to Northern Ireland. Initially slated for release in July 2021, the premiere gets delay due to the COVID-19 pandemic and the clearance of Mission: Impossible — Dead Reckoning Part One. The Movie is now set to hit theatres in March 2023. Honour Among Thieves is an exciting addition to the D&D franchise, and fans eagerly await its release.
The Trailer of the Movie
If you're looking for a sneak peek at the upcoming movie Dungeons & Dragons: Honor Among Thieves, you're in luck: several trailers are out there to whet your appetite. One camper, released recently, shows our plucky heroes battling monsters like displacer beasts and an owlbear, all while trying to outwit the sinister Red Wizards. Another earlier trailer gives us a taste of the film's overall tone: a mix of action, comedy, and high fantasy.
In it, we see our adventurers setting out on a quest to undo a great evil they accidentally unleashed upon the world. And if you're feeling nostalgic, there's even a short teaser from last year that reveals the film's title. Overall, Dungeons & Dragons fans have much to look forward to.
The cast of the Movie
The star-studded cast of Honor Among Thieves includes some of Hollywood's biggest names and up-and-coming actors. Additionally, cast members from the D&D web series Critical Role get slate to make cameo appearances.
In the lead role of Edgin, the bard and planner of the group, is Chris Pine. Pine is best known for his roles as James T. Kirk in the 2009 Star Trek reboot and as Steve Trevor in Wonder Woman. In an interview with Variety, directors John Francis Daley and Jonathan Goldstein praises Pine's ability to play against his superhero image, saying, "What we love about Chris is that he's hyper-aware of [his image].Moreover, he wants to make himself look as bad as possible, almost to a fault."

Michelle Rodriguez plays Holga, a barbarian imprisoned with Edgin. Rodriguez made her acting debut in 2000 with the sports drama Girlfight, for which she won the Independent Spirit Award for best debut performance and the Gotham Award for the breakthrough actor. She is best famous for her roles in The Fast and the Furious, Resident Evil, S.W.A.T., and Avatar.

Regé-Jean Page plays Xenk, a paladin in the film. The London-born actor is best known for his role as Simon Basset, Duke of Hastings, in season 1 of Bridgerton. Justice Smith rounds out the cast as Simon, a sorcerer with legendary ancestry. Smith's previous acting credits includes:

The Get Down,

Jurassic World

Fallen Kingdom

 All the Bright Places.
Honor Among Thieves is an exciting addition to the D&D franchise, and fans eagerly await its release.
The Storyline Of the Movie
The plot of Honor Among Thieves follows a group of adventurers on a quest to retrieve a lost relic that has fallen into dangerous hands. However, their journey is difficult when they encounter the wrong people.

In "Dungeons & Dragons: Honor Among Thieves," a charismatic thief and a group of unconventional adventurers embark on a grand mission to recover a valuable artifact. However, their plans turn dangerous when they encounter the wrong individuals. This film brings the iconic role-playing game's lively atmosphere and expansive universe to the cinema in a thrilling and comedic journey.
Conclusion
Overall, "Honor Among Thieves" is a fantastic movie that embraces the thieves' lifestyle in an exciting and thought-provoking way. It shows that the most unlikely heroes can sometimes be found in unexpected places. Whether you're a fan of Dungeons & Dragons or not, this movie is worth checking out.